Which side are you on?
The Supernova psy-trance festival massacre and the eradication of empathy
In some ways the psychedelic renaissance was born out of World War Two and the Holocaust.
Aldous Huxley had fled Europe during the war, moved to California, and declared that the only solution for the evil engulfing humanity was for people to attain mystical consciousness. In 1953, he found a way for people to do that at scale – psychedelic drugs. He finally cheered up and thought humans might just survive and evolve to a higher state.
The psychedelic counterculture of the 1960s had a similar pacifist vision to Aldous – make love, not war. Don't be like your parents, don't sign up, drop out. In the 1970s, a young draft-dodging hippy called Rick Doblin had a dream. In his dream, he saw thousands of Jews lined up alongside a mass grave as gunners opened fire. One man survived the massacre and passed on a message to Doblin: he should devote his life to promoting psychedelics as a cure for human ills and an insurance policy against another Holocaust.
Doblin told the Times of Israel:
I've always felt that the response to the Holocaust is helping people realize our common humanity. And that there are many ways to do that, and psychedelic mystical experiences are one of the ways. And so I felt like what I'm doing is to try to prevent another Holocaust and that that's the deepest motivation.
Doblin went on to found the Multidisciplinary Association of Psychedelic Science (MAPS), and hopes psychedelics could bring peace to the world, and especially to places of hatred, polarisation and potential genocide, like Ukraine and Russia, and Israel and Palestine. He often mentions the Imperial College paper which studied ceremonies giving ayahuasca to Israelis and Palestinians to try and help them heal. In his more visionary moments, Doblin declares that psychedelics could help us achieve 'net zero trauma' by 2070.
This week, that goal seems further away than ever.
October 7, the 50th anniversary of the Yom Kippur war, was the worst day of bloodshed for Jews since the Holocaust, and the aftermath has been the worst days of bloodshed for Palestinians since Israel was founded. 900 Israelis died on October 7, 700 Palestinians have died in Israeli airstrikes since then, and Israel says 1500 Hamas terrorists were killed. Hamas also took over 100 Israelis hostage – including women and children – and says it will kill one for every rocket that falls on Gaza.
What does any of this have to do with psychedelic and ecstatic integration? Well, the Challenging Psychedelic Experiences Project team includes friends who work on harm reduction at Israeli psychedelic trance events, like the Supernova festival attacked by Hamas. They are now working to support the survivors of the festival and provide them free therapy - you can donate here.
The Supernova Festival was meant to be a 'safe envelope for finding inner calm, peace and harmony'. Psychedelic trance is incredibly popular with young Israelis, and often has the same sort of ethos that Doblin hopes to spread – PLUR, Peace Love Unity and Respect.
Hamas attacked the festival at around 6.30am, descending from hang-gliders from the sky and motorbikes and cars from the ground. Some of ravers would have been high on MDMA and psilocybin. They wouldn't have noticed at first. Then some saw the rockets in the sky, the music stopped, and the shooting began.
260 ravers were shot dead, including foreign nationals like Shani Louk, a 23-year-old tattoo artist from Germany, who was filmed dancing moments before, and whose stripped and badly injured body was paraded on a truck by Hamas hours after. Others were abducted, like Noa Argamani, a 25-year-old university student whose boyfriend had to watch as Hamas grabbed her on a motorbike and drove away.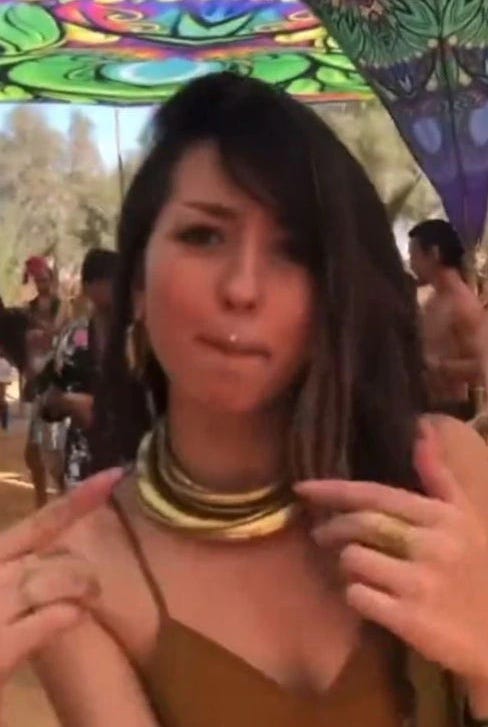 It was sickening, but apparently it wasn't even the worst site of violence - that would be the nearby kibbutz of Kfar Aza, where around 100 bodies were found, including babies with their throats slit. Even more sickening were the scenes of celebration from Palestinian supporters in the streets of London, New York, Sydney and Paris. Such euphoria at a pogrom. One far-left protestor in New York told a cheering crowd: 'As you might have seen, there was some sort of rave or desert party where they were having a great time, until the resistance came in electrified hang gliders and took at least several dozen hipsters'.  
Other far-left activists tweeted their satisfaction. Ashok Kumar, a Marxist from Tower Hamlets with the Twitter name Broseph Stalin, tweeted: 'Sometimes partying on stolen land next to a concentration camp where a million people has starved has consequences.' And here's a charming tweet from Black Lives Matter Chicago celebrating the murderers and rapists who hang glided into the festival.
How do people celebrate the rape and murder of civilians? Well, it happens all the time during wars. It's another sort of ecstatic experience, perhaps the oldest – celebrating the bloody humiliation and desecration of your enemy.
Now we have the usual division in the public assembly. Why haven't you tweeted your support? Where do you stand?
That feels like an easy question, when I think of how many friends and colleagues in the psychedelic industry I have who are either from Israel, or are American-Jewish. They're my friends, and I send them my prayers and solidarity in the face of rising anti-semitism.
And the people dancing in the streets to celebrate a massacre? What do I have in common with them? It is easier to empathise with people who look and think like me.
But this is the objective of Islamist terrorism – 'the Elimination of the Gray Zone', as Islamic State put it. Intentional polarisation, intentional fostering of hatred through live-streamed extreme violence, spread on social media to promote enraged reactivity and draw a line in the sand: Which side are you on? War eliminates - or temporarily hides - the shades of grey that might exist within Israeli public opinion, Palestinian public opinion, Jewish and Muslim public opinion. It tries to herd us into blocs.
It is very difficult in such moments to keep believing in the battle-cry of humanists for two millennia: 'I am human, nothing human is alien to me'. Nothing and no one.
How could Hamas murder innocent civilians at a music festival? They have become so brutalized they've lost all empathy and don't see them as human beings worthy of dignity.
How can the Israeli defence minister declare a total siege on Gaza, blocking off electricity, food, gas and water for two million people? Because he too seems to have lost empathy for them and doesn't see them as human beings worthy of dignity – in fact he called them 'animals'.
This decades-long war has brutalized people on both sides of the walls – I had a journalist friend who had to leave Israel after she tweeted how sickening it was to watch Israelis cheer as rockets fell on Gaza.  
Amid all this carnage and hate, you have to wonder, can psychedelic drugs really help us heal trauma and have more empathy? Could therapy? Or meditation? Or group dialogue? Or peace negotiations? Or anything at all?
It seems a long, long way off.
But I don't mock Rick Doblin for trying. Maybe psychedelics can help, who knows, along with whatever else we try.
Sometimes we have to keep believing in the possibility of peace, even when it seems a very distant dream. May God be with the dead, the dying, the wounded, and their families.
Next, the weekly round-up of ecstatic and psychedelic news, including Governor Newsom's veto of the California decrim bill, a new paper on psychedelics and conspiracy-thinking, fears of long-term dependence on esketamine, and a look at how psychedelic therapy has historical roots in 'narcosynthesis', an attempt to heal war trauma using drugs.
Keep reading with a 7-day free trial
Subscribe to Ecstatic Integration to keep reading this post and get 7 days of free access to the full post archives.