The Long Walk to Community
What walking the Camino taught me about communitas
In 2010, I decided to walk the Camino de Santiago, the old medieval pilgrimage route that weaves (in its most popular route, the Camino Francés) for 780 kilometers across northern Spain. I'd never done a long walk before and chose the Camino because it sounded easier for a newbie to navigate. On the Camino it is hard to get lost, you just follow the yellow arrows pointing west, all the way to Santiago de Compostela.
The pilgrimage had once been an expression of the unity of Christendom: travellers from all over Europe found a common identity as pilgrims, and a common goal in Santiago. In the modern age, the Camino has been revived by the European Union as a symbol of Europe's cultural unity. The number of pilgrims has grown every year, with the exception of the pandemic years, with 300,000 walking to Santiago in 2019.
Today, few pilgrims really think that walking the Camino will give them an express pass through purgatory, as their medieval counterparts believed. But for some, walking the Camino is still a serious act of religious devotion. I met one intense young Englishman called Arthur, a recent convert to Catholicism, whose eyes burned with terrifying ardor. He described himself as a professional pilgrim. One day he'd walked eighty kilometers before collapsing and sleeping in a field. I asked him what he'd do when he reached Santiago. "I want to do another pilgrimage," he said. "A proper one this time."
Quite a few pilgrims had been inspired by Paulo Coelho's book The Pilgrimage. They believed, in a vague New Age way, that the universe would show them signs when they were on the right path. "I almost missed my flight here," one pilgrim told me. "But when I changed flights, my backpack was the very first to appear on the luggage carousel. That's when I knew I had made the right choice to come here." Others had less spiritual reasons for following the Way. Jenny, a white witch from Wales who made a living selling sex toys for Ann Summers, was doing the walk with her boyfriend for fun. They kept on leaving the Camino to slip into the bushes for a quickie. Others wanted a month to walk and reflect on their lives, like Anna, a German lady who was trying to decide whether to stay in her marriage (she decided not to), or Alberto, a roly-poly Ecuadorian, who'd been sent on the Camino by his mother to find a wife.
Despite the pilgrims' various nationalities, ages, professions, and beliefs, for one month we were united in a common way of life. Every morning, the pilgrims woke up at six, had breakfast, put on our backpacks, and walked west. We ate together, walked together, shared stories, tolerated each other's snores. We may have lost medieval Christendom's sense of common values or the common heavenly goal of life. But for one month, we shared a common geographic goal, handily pointed out by the yellow arrows painted on the sides of trees and houses.
I started the Camino just as I was finishing writing Philosophy for Life and Other Dangerous Situations, which is largely about Stoicism and the Greeks' rational approach to life. I began the pilgrimage very much a Stoic, and spent the first few days striding silently along listening to my iPod, seeing how many kilometers I could walk in a day. That didn't last long. My feet gave out, I felt lonely and cut off, and wondered why I was putting myself through this solitary ordeal.
By the end of the pilgrimage, I'd changed my philosophy, because I had been helped so much by my fellow pilgrims. I discovered communitas. To go on a pilgrimage is to make yourself vulnerable, to put yourself at the mercy of others. You learn to accept the gift of others' help, and to accept your own dependency. I realized the ideal of self-sufficiency one often encounters in ancient Greek philosophy is not sufficient for a good life. I ended up writing this at the end of Philosophy for Life:
We are not, and should not try to be, invincible Stoic supermen, safe in our lonely fortresses of solitude. We need each other. We need to admit this need, and embrace it. In modern liberal society, we have struggled for centuries to wall off the individual from the interference of church, state, and community. We have won our individual freedom and privacy, but at the cost of terrible loneliness. We place a great emphasis on the free, private, autonomous individual. If we hurt, we hurt in private. The pilgrimage broke down this liberal isolation through sheer necessity. It was all too obvious who was in pain and who needed help: often it was the younger pilgrims, the ones you'd think would be physically hardy, but who ended up needing help from pilgrims in their sixties. We had to care for each other, share paracetamol, swap tips on how to deal with tendonitis, tend to each other's injuries and, above all, listen to each other's stories and encourage each other on.
Walking the Camino was one of those 'rites of passage' that Victor Turner wrote about, and it changed me in two ways.
Firstly, it opened my frozen heart a little and made me slowly more capable of love. About a week in to the pilgrimage, in the middle of a thunderstorm, I met a beautiful Mexican-American pilgrim, and we had a turbulent, wonderful romance that lasted all that summer. I had some English insecurities about romantic love and sex before I met her, and I didn't afterwards. Probably not the usual Santiago de Compostela experience, but God moves in mysterious ways!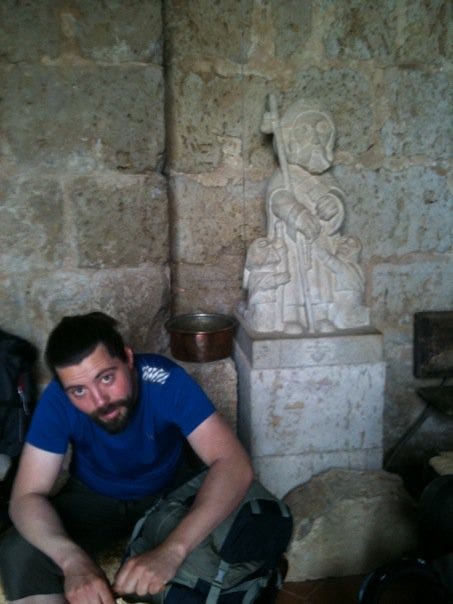 Keep reading with a 7-day free trial
Subscribe to Ecstatic Integration to keep reading this post and get 7 days of free access to the full post archives.