Ketamine: the psychedelic renaissance goes hyper-capitalist
There is intense competition in the US ketamine market, despite concerns the drug could be addictive.
The aim of this newsletter is ecstatic and psychedelic harm reduction. Humans take mind-altering drugs for fun and to relieve pain. They always have and always will. We try to make human drug-taking safer. We don't criticize anyone for the sake of it and try to encourage best practice by individuals, companies and regulators.  
Ketamine clinics are booming across the US. According to psychedelic fund PsyMed, there were around 20 ketamine clinics in 2019. By the end of last year, there were reportedly over 600 independent ketamine clinics, as well as chains like Mindbloom, Field Trip and Delic with multiple clinics and home delivery services. Since the pandemic began, ketamine start-ups have reported rapid growth: in 2022, Field Trip reported 200% yearly growth, Mindbloom reported 420% employee growth, and Delic says its net assets grew 500% in a year.   Profits from ketamine grew from $8.3 million in 2017 to $185 million in 2022, according to this video report from the WSJ. Marketwatch estimates the global ketamine market will grow from $132 million in 2021 to $3.8 billion by 2027.
There is an M&A boom in the market as well - Irwin Naturals has bought 18 ketamine clinics in the last two years and their CEO says they have 'over 100 targets in their pipeline'. The pace of deals and start-ups is dizzying - in August 2022, Braxia Scientific entered the ketamine market with the acquisition of KetaMD. This week, it sold to Irwin for $30 million.
Ketamine companies are riding the wave of psychedelic hype. There's so much excitement about psilocybin therapy, but it's been slow to get FDA approval. Meanwhile, people are desperate for relief from mental and physical health problems, and investors are impatient for returns. Ketamine already has FDA approval as an anaesthetic. Any US medical provider can apparently offer it off-label for whatever condition they want, from depression and anxiety to OCD and eating disorders, to alcoholism, drug addiction, schizophrenia, bipolar disorder, self-esteem issues, self-actualization…you name it!
Dylan Beynon, who founded Mindbloom in 2018, says (here) that the company is now 'massively scaling out our platform to bring ketamine to every single person in the US who needs them for every single indication that psychedelics could help people for.' To help this 'massive scaling out', Mindbloom gave the drug-formerly-known-as-horse-tranquilizer a full makeover. It hired several design and marketing studios to promote ket as the perfect lifestyle choice to release your potential. It now delivers ketamine lozenges to your door in cute little suitcases, complete with luxury eye-masks and a journal.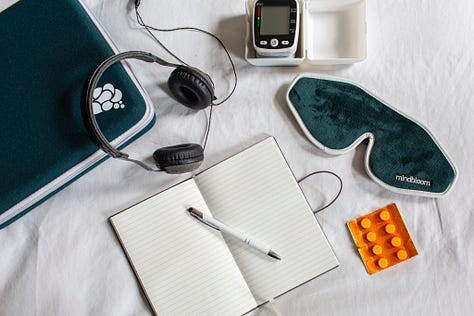 Mindbloom's incredible growth in home-deliver ketamine was thanks to the federal government waiving the Ryan Haight Act during the pandemic, which obliges physicians to meet patients in-person before prescribing drugs. That instantly created an enormous market in telehealth drug-delivery. Now, drug 'telehealth' companies and the American Psychiatric Association are lobbying the US government to permanently waive the need for face-to-face meetings before drugs like ketamine and amphetamine are prescribed. This will help the country fight the opioid epidemic, psychiatrists say.
Other new companies are trying to match Mindbloom's growth and establish themselves as a big player. Nue Life Health, which launched in 2020 and also offers home-deliver ketamine, raised $23 million from VCs and says it's already treated 7000 people with 50,000 doses (or 'experiences'). Some companies have started offering ketamine as part of their employee wellness packages. Ronan Levy, CEO of Field Trip, recently offered a free month of ketamine sessions to the thousands of tech workers laid off by firms like Apple, Amazon and Meta.
Ketamine has even been repackaged as a sacrament, a means to mystical experience. It's important, I was told by a psychedelic influencer on Instagram, to 'understand the spiritual roots of ketamine'. Celebrities like Chrissy Teigen are publicly endorsing it. Others are turning to it as an alcohol substitute that helps you relax after work without increasing your calorie count.
The good news is that ketamine does seem to have a rapid-acting anti-depressant effect. Several studies and meta-studies have found this. However, most studies conclude that more research needs to be done. There is not yet medical agreement on the recommended dose for ketamine, and the dose offered by clinics can range from 1mg to 10mg. There's also no recommended protocol for the treatment – some clinics recommend once a month, others once a week, and there are reportedly some clinics who offer ketamine once a day, or even for five days' continuous infusion. Some offer it embedded in psychotherapy, many don't.
Mindbloom got a lot of publicity with an academic study of its home-delivery service, published in the Journal of Affective Disorders, which reported that 89% of patients reported improvements. It boasted its service was 54% better than psychotherapy results and Benyon declared: 'The results of this study make it clear that ketamine therapy is the future of mental healthcare'. What it didn't say in the press release is the study was led by a non-academic paid advisor to Mindbloom called Thomas D. Hull. I would like some drug scientists to have a close look at the study.
What's most concerning is the evidence that ketamine can be psychologically addictive. This was explored in an excellent article by Anna Silverman this month, in Business Insider. Anna reported how several of her high-achieving, 30-something friends built up a serious K-habit during the pandemic, like Jared, a venture capitalist who used ketamine for depression. Anna writes:
Soon, Jared's cravings for ketamine became overpowering. "I would try to sneak bumps in while I was driving with my girlfriend when she wouldn't see it," he said. "Whether I was on a plane, or in a grocery store, I would find a way." He became reliant on ketamine to make him feel calm and present; when he wasn't on K, his tolerance for discomfort or anxiety was basically nonexistent.

It took him a long time to accept that he had a problem, partly because he was hearing about the miraculous benefits of ketamine everywhere. At a fundraising dinner, one of the executives hosting the event spoke openly about how using ketamine had been a game changer for his productivity, and "nobody even batted an eye," Jared said. At a speaker session at Soho House that he attended last year, a CEO coach talked about prescribing it to corporate leaders to boost their performance. For Jared, who at that time was snorting about a gram a day from the moment he got up to the moment he went to bed, this rhetoric "validated what I was doing."  

Meanwhile, his life was falling apart. He had started behaving erratically, lashing out on work calls and acting aggressively with business partners and colleagues. He was lying to his girlfriend about his use, and their fights were escalating. Things came to a head one night at Burning Man when, mixing ketamine with cannabis, he had a psychotic break and flew into a violent rage, smashing his face and arm through a glass mirror, despite his girlfriend's unsuccessful attempts to restrain him. 
In Asia and Europe, it's been known for two decades that ketamine can be addictive and can cause serious health issues. Listen to this episode of the Break the Chains podcast, in which two British friends, veterans of the Noughties rave scene, discuss how they both got addicted to ketamine, to the point where they were doing a gram or more a day. What started as a social habit led to them becoming completely socially withdrawn and deeply in debt, curled up in K-holes at home. It destroyed their social confidence, and damaged their bodies too – one of them describes how he developed 'ketamine bladder', needing to pee constantly and suffering long-term liver and urinary problems. They also report suffering from 'k-cramps', agonizing pain for which the only relief is…ketamine.
There are some studies which back up these first-hand reports – this study looks at liver damage from long-term ketamine use, while this article and this study looks at urinary and bladder damage. Ketamine bladder has been a particular problem where I used to live, in Bristol – a doctor there says he's had to remove people's bladders because they were so damaged.
James Dear, presenter of the Break the Chains podcast, says:
I've been watching videos of people using ketamine for depression. They say 'I felt depressed then I used this and now I feel great'. Well…no shit, it's drugs! But how long are you going to feel great for? You build tolerance to these things so fast it's unbelievable. You can't cure mental health problems with drugs, they don't cure them, they just give you a break.
So far, the warning noises from the UK and Asia don't seem to have impacted the shiny world of VC-fueled American pharmaceutical capitalism. In the US, ketamine is being aggressively marketed, especially online. The FDA's rules on accurate advertising for drugs do not apply, for some reason, to social media, and new ketamine clinics have been quick to take advantage of that. An investigation by the Wall Street Journal found that, in a four-week period, more than 1,800 social media ads from telehealth companies promoted prescription drugs like ketamine and Adderall without warning of side effects. It's also quite common to drive past billboards promising instant happiness.
Clinics like Kalypso Health and Ketamine Clinics in LA boast 80-90% success rates for their clients. There are even adverts now offering advice on setting up your own clinics and turning them into '7 figure psychs' (in Beyond Marketing's phrase). One company, Ketamine Media, exists solely to offer marketing advice to ketamine clinics.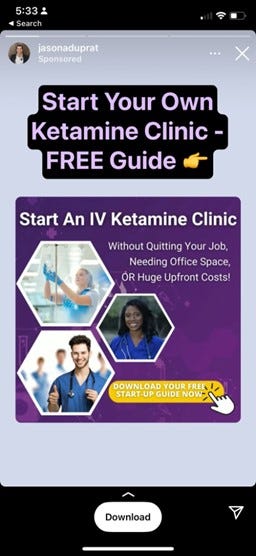 The constant stream of ketamine advertising risks increasing people's dependency on the drug. Erica Siegal, founder of NEST Harm Reduction, says: 'People in recovery have called me in crisis asking 'how can I get Instagram adverts to stop pushing ketamine?'  Siegal says the ketamine market is following the Oxycontin playbook for predatory medical capitalism:
The current attitude is 'ramp up your business, get 70 new clients a month'. No one should be doing that - you can't take on 70 new clients and still provide good care. Companies are looking at ketamine treatments from a medicalized treatment lens and not a therapeutic tool on a healing path. It's a pill-mill model. There is inadequate informed consent around risks and harms. A friend of mine rang up a market-leading ketamine company, and after a ten-minute conversation with a sales-person they asked for her credit card details - not a doctor, a salesperson. 
(In this article, the CEO of Ketamine Wellness Centres, Kevin Nicholson, boasted of adding 70-80 new clients a month, shortly before he sold his business to Delic).
Companies in this competitive, VC-driven market have a financial incentive to increase patient and dosage numbers rapidly while cutting costs. It's expensive to hire a therapist to sit with someone before, during and after a six-hour psilocybin trip. But at many ketamine clinics, there is barely any preparation, no therapist present during the session, and no integration therapy. Just plug them in, start the drip and count the moolah.
Mindbloom, one of the biggest companies selling ketamine home delivery, offers zoom support – but not from therapists, rather from 'psychedelic sitters' without medical training (check out one of their job adverts here).  Shayla Love reports here on some of the issues faced by Mindbloom customers - having to buy six sessions in a go, then having to wait months for delivery, not having much in the way of online support, being sent the wrong dose, and so on.
Dr Ben Sessa of AWAKN, a UK-based psychedelics company offering ketamine therapy, tells me: 'There's been huge growth of non-psychotherapy ketamine infusion clinics in recent years. These predominantly offer no therapeutic support, which has limited efficacy and requires regular maintenance dosing.'
Clinics charge anything from $200 to $1300 a dose (depending on how much clinical or therapeutic supervision they offer). At such prices, and without insurance coverage, ketamine dependency could become very expensive. Erica Siegal of NEST says:
If people get dependent on ketamine and can't afford the clinical version, they will go to the black market. This is exactly what happened with Oxycontin and caused the current drug epidemic in the US that has killed more than 760,000 people since 1999.
From a critical point of view, one could say that this is what happens when entrepreneurs with no background in mental health or psychiatry see an opportunity to make rapid profits, and VC funds pile in to the 'next big thing'. The biggest ketamine companies were all founded by people without a medical background: Ronan Levy of Field Trip ran a gold company, Dylan Benyon of Mindbloom ran a personal injury lawsuit platform, Mike Stang of Delic sold advertizing for High Times, Irwin Naturals sold vitamins. Perhaps they would say that makes them useful disruptors. I contacted Levy and Benyon asking for a comment but haven't yet heard back - our door is open if they want to reply.
How could this market be made safer, so that people can get the benefits of ketamine therapy without being so exposed to the risks and the downsides? Members of Congress like Rep. Andy Harris and Rep. Cathy Rodgers are trying to change the law to close the loophole on promoting drugs irresponsibly online. The federal government may also decide to re-introduce the Ryan Haight Act requirement for people to see physicians before they are prescribed ketamine. Anthony Coulson, a retired DEA regional head who now consults for start-ups, told Bloomberg: "I tell these folks [ie telehealth ketamine companies], 'There's going to be a reckoning coming, and when that reckoning comes, you probably will lose everything'.
If ketamine therapy is only offered by clinics with proper psychiatric supervision, as opposed to home-delivery, there could be better safeguards against dependency and physical damage, and more clinical control over who takes the drugs and how. Dr Ben Sessa tells me: 'It's true that regular, heavy recreational users of non-clinical street ketamine can become addicted and suffer urinary tract inflammation that can lead to permanent scarring and lasting damage. But that's highly unlikely in clinical settings, where patients are regularly screened and monitored for bladder symptoms and addiction risks.' Dr Julia Mirer of the Nushuma clinic has warned of the risk of ketamine dependency and called for a nation-wide patient registry.
Perhaps, as with Oxycontin, only a slew of law-suits will slow bad business practices. Erica Siegal says:
I believe there will be significant lawsuits against mail/in-home ketamine companies in the next three to five years' time. It is one of the main factors on why I haven't aligned NEST with any large, ketamine prescribing companies. When looking at their business models, I said to them, you're going to harm people, you're going to get sued.
There are already some law suits out there, one against a ketamine clinic where a patient went psychotic and killed themselves, but mainly by families of people who died after police and parademics used ketamine injections to sedate them.
This article has raised some serious harm reduction concerns but we want to emphasize that ketamine can and does provide relief to some people who desperately need it. Many responsible people working in this industry want to help people access the therapeutic benefits of ketamine therapy safely. It's in the interests of ethical practitioners both in the ketamine industry and in the wider psychedelic culture to push for more research, more harm reduction practices, and more regulation of the market and protection of consumers. It would be a pity if aggressive ketamine selling damaged the psychedelic renaissance before it has properly begun.
After the pay-wall, a report on the occult use of ketamine in post-Soviet Russia, plus a harrowing account of 5MEODMT and a new study on the prevalence of challenging psychedelic experiences. All subscriptions support our work on the Challenging Psychedelic Experiences project.
Keep reading with a 7-day free trial
Subscribe to Ecstatic Integration to keep reading this post and get 7 days of free access to the full post archives.