Adam Aronovich on communitas, raving, and Healing from Healing
If writing or drawing can be a practice in spiritual discernment, why not social media?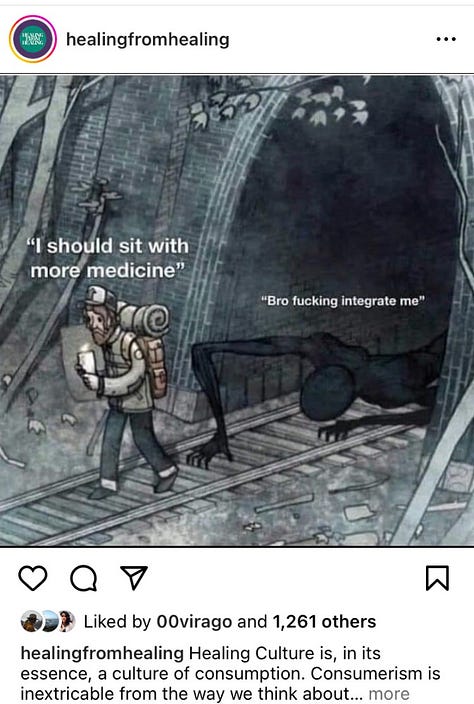 This week our theme is COMMUNITAS - the social bonding that arises from liminal experiences. To start off, here's an interview with Adam Aronovich about communitas at ayahuasca retreats.
Adam is a medical anthropologist and psychedelic facilitator, who is famous for his much-loved wry social media meme-persona, Healing from Healing. He's also worked as an anthropologist and facilitator at the Temple of the Way of Light in Peru, which is an interesting and possibly unique combination of roles! His wife is Jennifer Sodini, the artist, writer and public speaker, and they recently welcomed their daughter into the world!
Below are highlights from our interview with a longer transcript after the paywall.
On his formative years at London squat parties in the mid-Noughties:
So me and some friends went to London and we rented a big house in Hendon. All of my initiations within the psychedelic world happened in the mid-2000s London squat scene of psytrance and psychedelic drugs. It was an incredibly fun time for me and my friends. I still remember the first time that we took a night bus all the way to a squat in Wembley and it was very late at night and we had been drinking MDMA on the bus. And when we got to the squat there was a stair that took you down to the main floor where the DJ was playing, and I remember the exact moment where I heard psytrance, which for me was something completely new that I never heard in my life before, and the first MDMA explosion in the brain that came together at the same time.
On his time working in Israeli psychiatric wards, and the deep disenchanted he felt at western psychiatry:
There were instances where these things became particularly illuminated for me. Israel has a large population of Ethiopian Jews who come to Israel and broadly speaking, they're treated very poorly. They don't speak the language. They come from a very different culture and a very different environment. I got to meet a few Ethiopian guys that were admitted to psychiatric wards and they were given a diagnose of schizophrenia. But every time you talked to them, they argued that what was actually happening to them was something very specific. They claim they were being possessed by "Zar", a spirit or a demon. It's called Zar syndrome, sort of demonic possession in the Horn of Africa and north African culture. In the traditional context the treatment for that is community based -  the whole community gathers together and they come to the person who has been afflicted and they dance and dine and there's a community based ritual of exorcism.  It's so much nicer than being sectioned on your own, separated from society, and this very stigmatized, frightening experience.
'I remember the exact moment where I heard psytrance, which for me was something completely new that I never heard in my life before, and the first MDMA explosion in the brain that came together at the same time.'
How could one incorporate a wider variety of politics into psychedelic culture:
I think ideally there should be the opportunity for people to consent to the ideological framework of the retreat centre they are choosing to attend.  So, you know, a place like the Temple of the Way of Light, for example, should be much more explicit about what are the actual belief systems, ideologies, spiritual and metaphysical assumptions that are being pushed through the practice. There could be a workshop after a retreat, giving you a different perspective. Exploring broader perspectives of what it means to be happy and healthy, the intrinsic relationship between individual health and the health of communities, societies, cultures and environments. Not only this individualistic, neoliberal tendency to put all the weight and responsibility on the individual— "change your lifestyle, make better personal choices, heal your trauma".
On his success as an Instagram meme-lord:
The platforms themselves are a nightmare. They are dystopian by definition. And I had to grapple with a bunch of different phenomena that I wasn't really aware of, like, audience capture and my own dopamine addictions. And all these things were getting enmeshed with my sense of worth and my public persona. I try to remind myself that I am not my profile. But it's very difficult in practice to actually separate these things.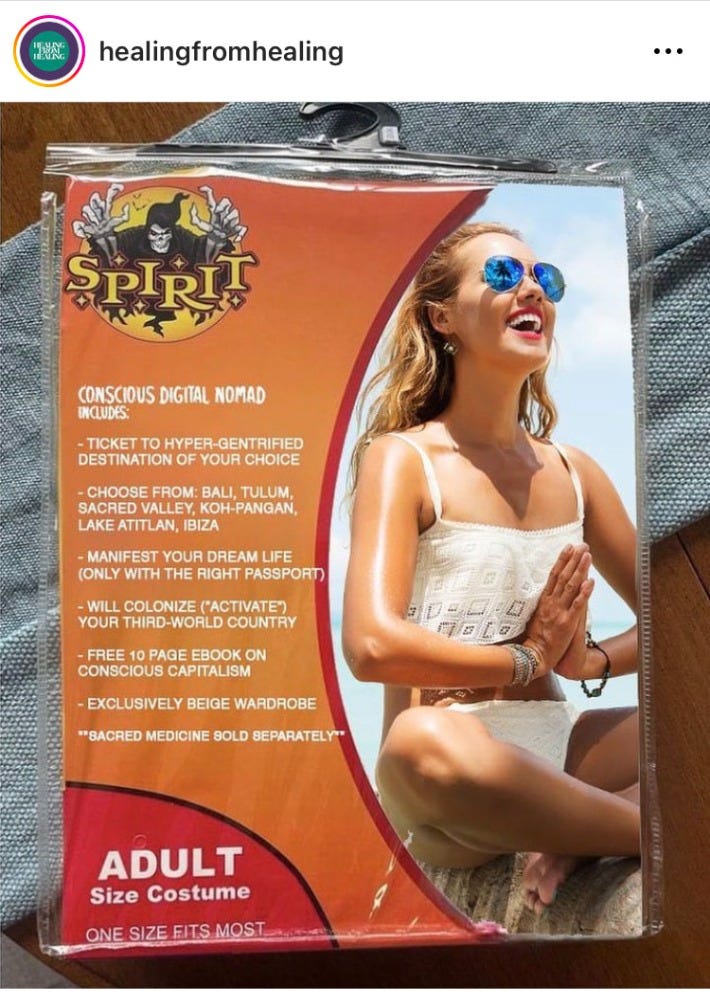 On his hopes for the psychedelic renaissance:
What I would really like to happen is a renaissance of the recreational, the non-medicalized, the non-psychologized use of psychedelics.  You know, like things that for me were fundamental when I was growing up in my mid 20s in London and I was partying in squats. I hope we recognize the importance and centrality of the recreational, the communal, the joyful, the fun.
A longer transcript is available for subscribers on the other side of the wall, plus more memes! Paid subscribers also get access to the Thursday briefing (this week on Victor Turner's idea of Communitas), the Friday essay, and the Sunday Brunch links round-up.
Keep reading with a 7-day free trial
Subscribe to Ecstatic Integration to keep reading this post and get 7 days of free access to the full post archives.